Specials and Shopping
See below for specials, discounts, and merchandise from Dr. Lori.
View Featured Specials
Take advantage of current discounts and offers.
Video Call – 30 minutes @ $199
Use FaceTime, Zoom, Skype, etc. to connect with Dr. Lori and get your antiques, thrift store finds and other stuff valued. Take her shopping with you too live in the store! Pick your time in her calendar.
3 Items Appraised for only $49
Get verbal appraisals for three items now. Schedule a short video call with Dr. Lori. Take her shopping with you too live in the store! Reserve your date in her calendar.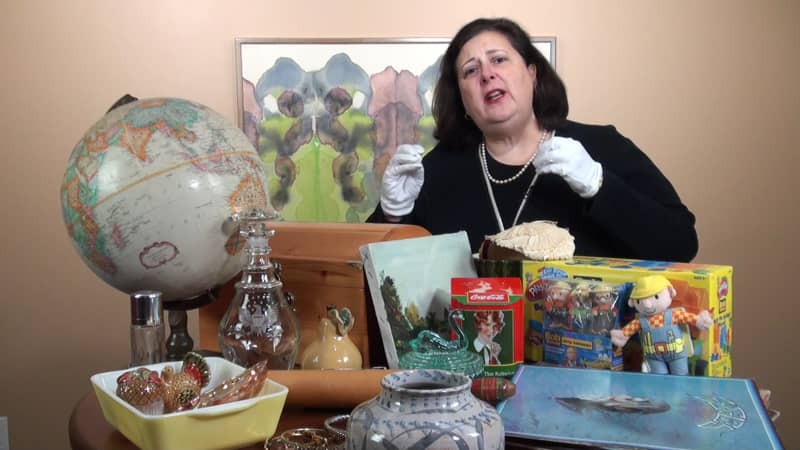 Class & Appraisals with Dr. Lori
October 5, 2022 at 7 PM eastern
Last 14 classes Sold Out!
Join the fun, learn the secrets to find bargains thrifting, and get one item appraised by Ph.D. Antiques Appraiser Dr. Lori. Attend a special class by registration only. Ask Dr. Lori your questions. Watch and learn from all items that Dr. Lori appraises during this class. Not available on Dr. Lori's YouTube channel or Facebook page.
$39 per person. A two hour class with Dr. Lori which you can access via Zoom.
Includes 1 item appraised.
Get your Team Dr. Lori Merchandise
Shop for special Dr. Lori says … "I'm Priceless" merchandise.
Note: You will be redirected to websites maintained by Teespring, Inc (powered by Spring). All transactions and their privacy policies are between you and Teespring, Inc. We may receive compensation for purchases you make with them.
Get your Dr. Lori Recommended Products
Get Dr. Lori's Treasure Hunting Kit –need a loupe or diamond tester to help you find those treasures? Tackling a DIY project and need cleaning, storing or framing products and solutions? Get the acid free and archival materials museum professionals use.
Ask Dr. Lori LIVE Details
Always check my events schedule for ALL upcoming live streams, events and classes.
Want to be part of my next Ask Dr. Lori LIVE video on September 28, 2022 at 7 pm eastern time to show me your thrifting find or antique heirloom? Return here minutes before show time to find the link activated below to enter the live video. Please review terms below.
*Ask Dr. Lori LIVE terms:
By clicking the link below for the chance to enter the live video stream, you agree to the following terms: We use Streamyard which will need access to your device's camera and microphone. Hold camera horizontal/landscape. You could be added to the live video stream (YouTube, Facebook, other social media platforms) at anytime so be ready with your question. Clicking the link below gives us permission to use your video, audio and likeness in the live and replay of the video and other places where we see fit. No compensation will be provided. We retain all rights. Not everyone will be selected to appear in the video. Appraisals are the opinion of Dr. Lori at the time the video is streamed live. Masterpiece Technologies Inc., its affiliates and employees and Dr. Lori are not responsible for judgments and decisions made based on the information provided.
There is no fee for the chance to enter the live stream video. There is no fee if you are selected to appear.
(link below will be activated minutes before the 7 pm eastern show time)
Enter Ask Dr. Lori LIVE's backstage >>
Dr. Lori YouTube channel's Binge Link
Save and use the Binge link https://bit.ly/3c4VPy1
It plays all of Dr. Lori's YouTube videos in a row. Always plays the most recent videos first. Plays videos of Dr. Lori when she appears on other YouTube channels too.
Get Your Antiques Appraised
If your antique is not worth it, Dr. Lori tells you at no charge!