Beanie Babies Value and History
Understand Tags, Errors, Pellets & Why Ty Warner Toys are Valuable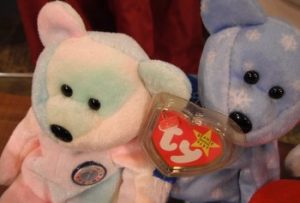 by Dr. Lori Verderame
Beanie Babies are actually worth big bucks. Well, they are worth big bucks as long as you know what you are collecting. The history of this toy collectible tells the real story.
Ty Warner's idea was simple. Give children a toy that they could purchase with their own money and make sure that buying just one toy is never enough. Ty Warner, the owner of Ty Warner Inc. and later Ty Inc., introduced Beanie Babies and achieved success with his low priced, small scale, stuffed animal toys. The business and marketing strategies for Beanie Babies were savvy and the Beanie Babies line was unmistakable. See a list of valuable Beanie Babies.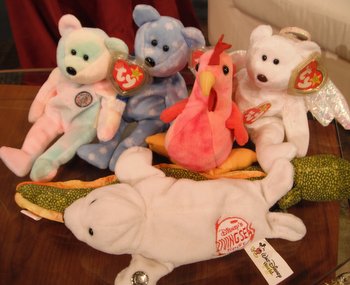 Ty Inc. used plastic PVC pellets as filler for his toys that felt more lifelike than the traditional stiff toy stuffing. What else did Ty Warner do to spark interest and sales in Beanie Babies? The company cut out the middleman–in this case, parents–and sold directly to the end users. Who were the end users? kids. They made the toys cheap enough so kids could afford to buy them. Lastly, the company retired certain Beanie Babies without notice creating an ongoing buying frenzy for all of the Beanie Babies animals simply based on the fear that a certain Beanie Babies animal would be retired without any warning.
The Original Nine Beanie Babies
The original nine collectible Beanie Babies are some of the most valuable Beanie Babies and were introduced at an American toy show in late 1993 and others were released in 1994. For collectors, these small scale stuffed animals were expected to be the holy grail of 1990s-2000s era toy collecting boom. The original nine Beanie Babies toys had cute names, attractive colors, cozy materials, and good back stories.
The original nine Beanie Babies which are still desirable today are Patti the platypus, Spot the dog, Squealer the pig, Brownie (later called Cubbie) the bear, Chocolate the moose, Pinchers the lobster, Splash the killer whale, Legs the frog, and Flash the dolphin. To remain in the ever-popular limited edition collecting realm, Ty Inc. offered only 50 official Beanie Babies to be sold in one calendar year.
Certain Beanie Babies were special to collectors including the original nine stuffed toys. The genius of the marketing of Beanie Babies was the most Beanie Babies were only sold to small specialty shops and not available in big retail toy stores. This made the toys even more alluring to kids and ultimately, to collectors. Today, Beanie Babies do not have the collectible value that they had in the late 1990s when it was widely believed that all of the Beanie Babies would be unavailable once January 1, 2000 arrived. This was not the case, but you can review a list valuable Beanie Babies based on what people really pay. Non-experts often have problems determining the current market for Beanie Babies. My 3 Tips to Spot Beanie Babies Value can help value your collection.
Originally costing less than $5 each, Beanie Babies had cutesy names, birthdays, biographies, and poems that accompanied each one. Other collectible toys and dolls like Cabbage Patch kids and Madame Alexander dolls, to name a few, Beanie Babies revealed a background story of the animal that attracted buyers. This and other aspects of the Beanie Babies line attracted collectors young and old alike to the brand.
What to Look For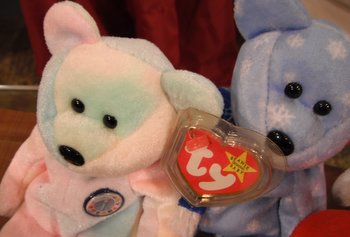 Serious collectors won't buy Beanie Babies that are not in mint or excellent condition. They may overlook a minor crease in a tag, but everything else has to be in pristine condition in order to get top dollar from collectors when selling your Beanie Babies.
While quite different from Steiff teddy bears, bears from the Beanie Babies line in many variations remain the most desirable today. Of course, these bears are most collectible only following the highly or most collectible, rare, and wildly expensive original nine Beanie Babies as listed above which remain the most collectible of all.
Original tags (heart tags, swing tags, locket tags, etc.) are important to assessing value. They also can give clues to the age of your Beanie Babies. Beanie Babies with tags that show slight mistakes or printing errors are sought after for their rarity.
The market for Beanie Babies remains volatile with many peaks and valleys. While a rare, original Valentino Beanie Babies (style 4058 from 1993) sold for $10,000 in 2013, there are many counterfeit and restored toys in the Beanie Babies camp too. So watch out!
Authentic first and second generation Beanie Babies that are in mint condition with their original tags still hold their value well with recent sales records for some prime examples ranging from a few hundred dollars to over a thousand dollars each. And some special beanie babies like the one honoring Princess Diana have been said to be worth upwards of $90,000. The problem is there is no comparable sales record to support that sky high value. No one has paid $90,000 for a Princess Diana beanie baby so it is not worth $90,000. Historical beanie babies can be valuable, but previous sales records must exist to confirm their true value. They can be worth a few thousand dollars but not worth nearly $100,000.
Want to know the true value of your beanie baby? Want to know how true value is established for each particular beanie baby character based on their condition, color, age, etc.? There is more to establishing value than just blindly believing people who want to inflate the market. Read my tips on how to sell your Beanie Babies.
Get an online appraisal from Dr. Lori of your Beanie Babies or schedule a video call to show her your most valuable Beanie Babies.