by Dr. Lori Verderame
You know his name, but do you know about his work as a printmaker? During Rembrandt's lifetime, he became very famous for his production and promotion of prints depicting various subjects–Biblical stories, portraits, scenes of everyday life, history, etc.
Known for his important and masterful paintings such as Self Portrait as an Old Man, Return of the Prodigal Son, the Night Watch, and Saskia as Flora, Rembrandt's prints are among the finest contributions to the history of art. Rembrandt's career as an etcher and printmaker spanned more than 30 years.
Born in Leiden on July 15, 1606, Rembrandt was the son of a miller. At 14, he attended the University of Leiden. In 1631, he moved to Amsterdam, Holland, studied art with Peter Lastman, and later married Saskia van Uylenburgh. Rembrandt's studio was filled with students and assistants. He secured numerous commissions for works of art.
Printmaking innovator
Rembrandt changed the course of the history of printmaking with his contributions to the medium of etching. As a printmaker and specifically, an etcher, Rembrandt moved the process forward with his visionary works. He was very skilled at producing images of landscapes and portraits. When the Dutch economy flourished, entrepreneurs including Rembrandt experienced great opportunities to sell products including highly acclaimed prints.
What to Look For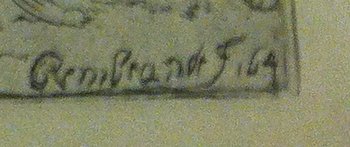 Look for what experts call a fresh pull. That means that you want to have a print that is clear, showing ink lines and subject matter with ease. You don't want to see muddy areas or areas in the print where the ink lines have blurred into each other.
When identifying valuable prints by Rembrandt or other printmakers, the paper of the print should be in good condition, free of tears, rips, stains, etc. Don't confuse prints with posters. Learn the differences between a print and a poster.
Rembrandt prints were reproduced from his original etching plates well after Rembrandt's death. This means that you could have a Rembrandt print from the 1800s that is still worth a lot of money. Valuable Rembrandt prints do not only have to be from the 1600s (during Rembrandt's lifetime). Restrikes or prints produced from original artist plates after the artist has died are still very collectible and more importantly, very valuable.
Some of the most famous Rembrandt prints include Christ Preaching–also known as the hundred guilder print which was a widely popular print that sold for a hundred guilders in Rembrandt's lifetime–The Windmill, The Rest on the Flight into Egypt, The Tribute Money, Self Portrait with Saskia, The Shell, etc.
Rembrandt's downturn
After the loss of three children during childbirth, Saskia gave birth to a son named Titus. Rembrandt's career flourished before Saskia's untimely death in 1642. Rembrandt had been living well and teaching art but then took a common law wife named Hendrickje and later declared bankruptcy as his commissions reduced significantly in the 1650s. After years of art production and financial troubles, Rembrandt died in Amsterdam in 1669.
Rembrandt's paintings are included in major museum and premiere private collections worldwide. Rembrandt's prints also enjoy status in museums and with serious collectors with high values. If you think you have a Rembrandt print and you certainly could since he produced many prints and was very prolific, check it out. Your Rembrandt print does not need to have a signature, monogram or other mark to be valuable either. Rembrandt's prints–originals and restrikes– have sold in the range from $5,000 to $150,000. Find out what you have and what it's really worth when it comes to Rembrandt prints. They are out there.
Get an online appraisal of your Rembrandt print from Dr. Lori