Slag Glass
Dr. Lori shows you how to identify Slag Glass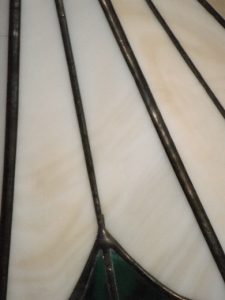 by Dr. Lori Verderame
Slag glass is the opaque pressed glass that has streaks of color within it. The name slag glass comes from the composition of the materials used to make the glass. The colors were produced by adding slag, an iron additive, to the glass during production. Marble or marbled glass was another name for slag glass since the resulting glass ware looked like marble stone.
Colors and Makers
American slag glass makers included Westmoreland Glass, Boyd Glass, Imperial Glass, among others. Slag glass comes in many colors such as chocolate or caramel, purple, blue, pink, and red.
Values
Values for slag glass, particularly, kitchenwares and lampshades command values from $50 to $1500 with collectors.
Get an online appraisal of your piece of slag glass from Dr. Lori.